Master Mu Yuchun's Health Online School is a holistic system of knowledge about human physical and spiritual health, built on the laws of nature, thousands of years of experience in traditional Chinese medicine and martial arts directly from knowledge Master Mu Yuchun.
At Master Mu Yuchun's Health Online School people/students are trained online from all over the world. 
Students from Ukraine, Latvia, Lithuania, Estonia, Germany, France, USA, Israel, Italy, Great Britain, Czech Republic, Poland, Switzerland, Austria, Portugal and other countries gather for lessons with Master Mu Yuchun.
What do we do at the lessons at Master Mu Yuchun Health Online School?
During the lessons Master Mu shares his knowledge on how to preserve and improve health, gives the basis for mastering the internal styles of Wushu, based on an understanding of natural processes, principles that help strengthen the internal systems and organs, to unite the spirit, heart and body in harmony. The master helps students find the right feeling and state in order to fully experience each exercise, to strengthen health.
During classes, Master Mu also pays a lot of attention to massage, self-massage, nutrition, lifestyle, and answers students' questions. Our Youtube channel Youtube-канале Чжень Гунфу has a large collection of videos made during online lessons, touching on various aspects of health.

The video was taken during one of the online meetings. Here Mu Yuchun explains and shows the technique for the neck and shoulder area exercises. Watch the video, try it out, share your feelings and results with us, and feel free to ask questions.
What else do I need to know about online classes at Mu Yuchun Health Online School?
At classes of the Online Mu Yuchun School pupils are assisted by his experienced students, who correct and advise everyone personally if needed, what feeling should be sought, and once found – how to save it, in order to achieve the best results. In addition, during the class, the Master himself continually guides and prompts the technique and subtle nuances of the exercises.
Master Mu Yuchun's Online School project gives new students the opportunity to be accompanied and supported by experienced students between classes. Intermediate individual meetings give an opportunity to ask questions, to gain a deeper understanding of the basic principles that serve as the axis for all subsequent work.
The teacher helps to master complex things, breaking them down into simple and most accessible elements for the first grasp, so that we can share the joy of success afterwards. Hence it doesn't come as a surprise that long after the ZOOM class is over, the participants stay together online.
One of the key ideas that Mu Yuchun keeps pointing out to his students is that working hard, training, and proper diet are not enough for health and a full life. There must be activities in one's life that make one's heart kind and calm. One of the best ways to please the heart is to practice music, painting, or any other art.
How do I get to Mu Yuchun School online classes?
Very simple)
Articles about Mu Yuchun Health Online School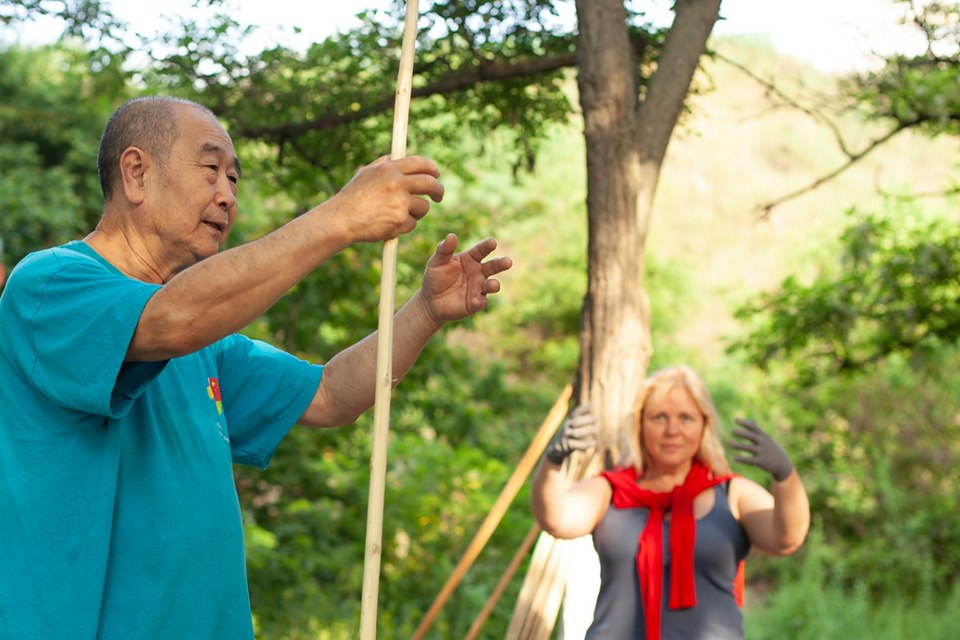 8,266 Conversation with Mu Yuchun about youth, health, lazy dragons, tigers and bamboo wives Friends, we want to share an interesting story about how to keep youth, mobility and lightness. Mu Yuchun has been conducting classes on the Dnieper embankment for many years. He explains to his students the principles that allow to accumulate and … Read more