ZOOM lessons with Mu Yuchun
Now it has become available to study with Master Mu Yuchun on the ZOOM platform.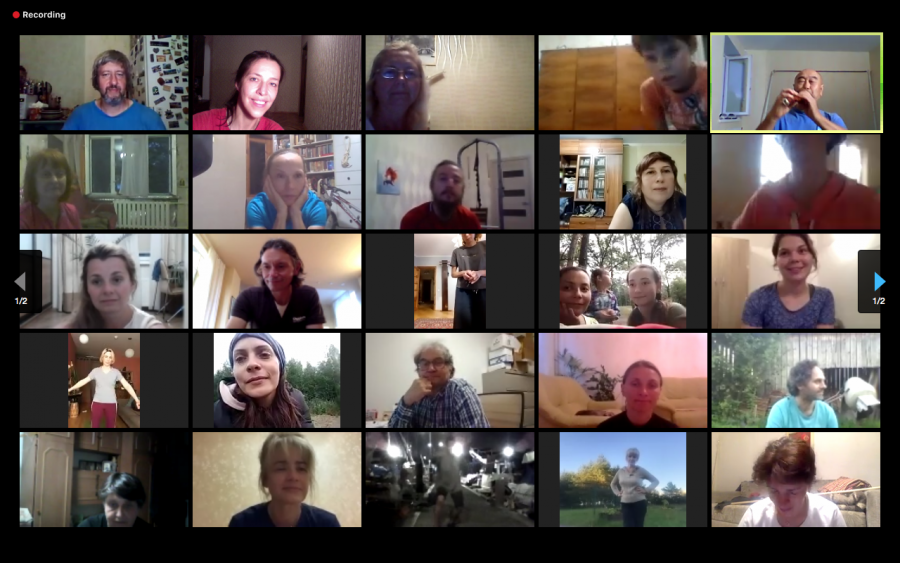 The experiment, at the request of students who were deprived of the opportunity to regularly study with Mu Yuchun due to quarantine, turned into an independent project. Students from different cities of Ukraine, Latvia, Lithuania, Estonia, Germany, France, USA, Israel, Italy, Great Britain, Austria, Portugal and other countries now meet in ZOOM classes. During the lessons, Master Mu continues to share knowledge on how to maintain and increase health, gives the basics of Baguazhang and other internal styles, helps students find the right feeling and state in order to fully experience each exercise. You can read more about the experience and interesting stories from the life of Mu Yuchun in the Master's Biography section on our website Master's Biography.
During ZOOM lessons, Mu Yuchun pays a lot of attention to massage, self-massage, nutrition, lifestyle, and answers students' questions. Our Youtube channel ZHEN GONGFU has a large collection of videos covering various aspects of health. Don't forget to turn on subtitles 😉
During the online lessons, Mu Yuchun is assisted by his experienced students: they correct and suggest to everyone what needs to be corrected, what feeling and sensation should be sought, and when found, saved. An amazing experience: for many weeks in a row, in an unusual format, to watch how the Master lays out complex things into the most simple and accessible elements for the first grasp, to jointly rejoice at small successes. It is not surprising that after the end of the lesson, the participants of the ZOOM lesson do not disperse for a long time.
One of the key ideas that Mu Yuchun constantly draws the attention of his students to is that for health and a fulfilling life, it is not enough just to work hard, exercise, eat right. In a person's life, there must certainly be activities that make the heart soft and calm. One of the best ways to please the heart is music, painting, any art.
For participation in online lessons on the ZOOM platform, please contact:
Vladimir Fedortsov
+38 063 22-99-447 (WhatsApp)
+38 067 654-14-49 (Telegram)
Natalia Volkova
+38 094 954-02-29 (Telegram, WhatsApp)