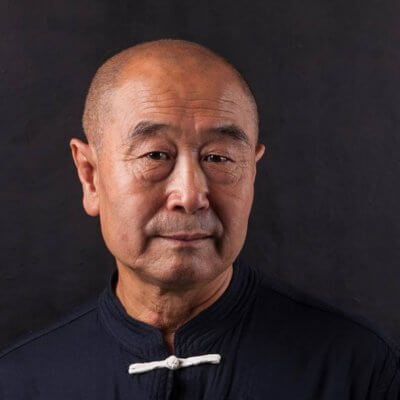 Master Mu Yuchun (穆玉春) was born on February 25, 1948, in the family of a Beijing engineer Mu Xui Xuan.
At that time their family stayed at, Xuanwu, Yunguansi, (Xuanwu 宣武), from  2010 Part of Xicheng District (Xichengqu 西城区), an old district of the city, where high rank army officers and the clerisy of Beijing used to live, including the wushu (martial arts) teachers of the Emperor's guards. One of the followers of this tradition has become the first teacher of the gifted six-years-old boy. During the next 10 years master Mu was polishing up his skills, studying Shaolinquan.
In 1960 Mu Yuchun entered his first martial arts school – Beijing Wushu School at Beihai.
An outstanding master He Dequan 何德全, who had trained several generations of wushu masters, was his teacher (taught him shuang qiang (双枪), gun, jian and so on). Wu Binlou 吴斌楼 – his teacher of chuojiaofanzi (戳脚番子拳), jian, dao, qiang, gun and so on. He studied xingyiquan from the teacher Ai Yushan 艾玉山, bajiquan and bajidaqiang from Wang Jinsheng 王金生.
The style of Mizuquan (米祖拳) was studied by Mu Yuchun with the teacher Liu Peiwei 刘佩伟, who was the first coach, team leader and director of the Beijing Wushu School, founded in 1959 (since November 1974, it was reformed as the Beijing Wushu Team by Wu Bin 吴彬 . Since then it has been based at the Shichahai Sports School). This time Mu Yuchun was invited by Wu Bin to the Beijing Wushu Team, working with him to gather children and train them at the initial level.
Mu Yuchun also trained mizuquan (米祖拳) under the leadership of the teacher Zhang Yiming 张益民.
When he was sixteen, he started practicing baguazhang under the leadership of a famous master Guo Gumin 郭古民, who has become a legend of Chinese wushu and Liu Jianmin 刘建民 , Han Jie 韩杰, Xu Zhenbiao 徐振彪.
Shuaijiao 跤坛 – teachers of Mu Yuchun – Yang Baohe 杨宝和, Qian Deren 钱德仁, Li Sanzhan 李三占.
Huaquan (花拳) style from master Song Zhiping 宋志平. Shaolin bafaquan from master Ren Zhengfang 任正芳. Sabre (dadao 大刀) from master Zhang Wenping 张文平.
Mu Yuchun also studied tuishou from Zhang Hungji 张红吉, Xu Zhenbiao 徐振彪 and Han Jie 韩杰, the leading masters in xingyiquan, xinyiquan, baguazhang and taijiquan.
Since 1968 he has been studying Dachengquan (yiquan).
Xu Futong 许福同, then Wang Xuanjie 王选杰 were his teachers. He also was in contact with the other masters of Yiquan.
Later on, in the 70-ties, master Mu Yuchun was upgrading his skills in xingyiquan (行意拳) under the leadership of another famous masters Ma Runtian 馬潤田 and Tang Zhenrong 唐振荣.
In 1962, upon graduating from the secondary school, he entered a medical college, and in 1965 – the Shandong Medical Institute, where he studied the traditional Chinese medicine: various types of acupuncture therapy and massage. During this period he used to visit his teacher Xu Futong from whom he studied not only the martial art of Dacheng quan, but also the art of calligraphy – "Shufa", and playing the flute – "Xiao 箫".
For several decades, Mu Yuchuni has been associated with a great friendship with the famous taijiquan chen style master Feng Zhiqiang 冯志强.
In the year 1969 Mu Yuchun entered Beijing Wushu School and, after graduation, he obtained the right to teach in the state institutions of China.
In 1974 the master took the job of a coach in the sports school Taoranting in Beijing.
The year 1982 was a momentous year in the destiny of master Mu. This year he became a champion of China in Sanda, regulated by rules, in the category of 56 kg. Afterwards he won the title of "the Best Judge of China" at the judge contest. The same year he entered the Shandong Sports Institute, where he obtained the 6th duan (grade) by the decision of the qualified commission. Since 1985 he had been working as the children's coach in Beijing Shijingshan sports school.
At the same time the master started his co-operation with different cinema studios of China as an actor and production director of different combat scenes. There are many Chinese films with the participation of numerous students of Mu Yuchun, the master himself had shown an outstanding actor's talent in some of those films as well.
In 1989 the master was invited to the Central Police School of Beijing city for martial arts teaching. The same year he took the extension course in the Beijing Wushu Institute.
In 1993 Mu Yuchun visited Ukraine for the first time.
In 1995 he arrived in Ukraine and began teaching the internal wushu styles. During this period, Mu Yuchun gathered a large number of students around him.
In 2005 Mu Yuchun established the Association of Traditions and Culture of China. Since that time till now, Mu Yuchun has been conducting a huge number of seminars, courses, workshops and festivals on martial arts and healthcare in Ukraine, China and other countries.
From 2006 Mu Yuchun became chief consultant of the Ukrainian Wushu Federation and many regional wushu federations and organizations.
In 2006 Mu Yuchun has established the All-Ukrainian Federation of Chinese Wrestling Shuaijiao and Shoubo.
In 2012, his students became champions in two Significant competitions. Vladimir Fedortsov won 1st place in the World Traditional Wushu championship in China. 2013 – 1st place of the European Traditional Wushu Championship. In 2013 Zulfiya Khazheyeva won two 1st places in the European Traditional Wushu Championship.
2014 was marked by a trip to Shenzhen with a large group of students to conduct an International seminar together with his friend and martial arts brother Pan Xuezhi. Then there was a joint trip of a large international group of students to Beijing to participate in the First Conference of Baguazhang style. At this time, a large number of meetings, joint training, trips and other events were held. At the same time, students intensively participated in Shuaijiao wrestling training.