Master Mu Yuchun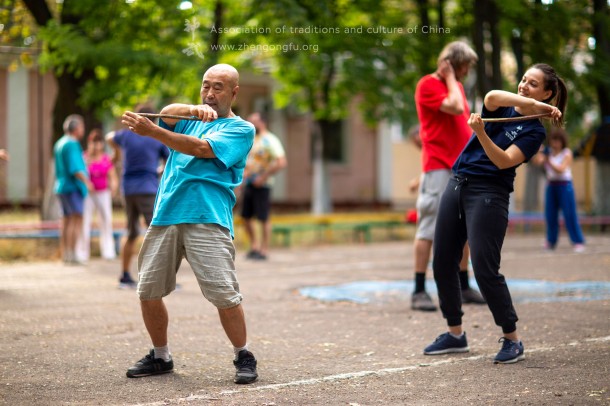 Master Mu Yuchun lives in Ukraine for more then 25 years, and his Seminars and online classes are anticipated events for his disciples.Master Mu has already held over 200 seminars in Ukraine and most of its cities. His seminars are expected in Europe and China.These seminars are concentrated on the martial arts, methods of maintaining good health, calligraphy, traditional Chinese massage. Master makes them available to everyone.
The seminars are usually held in an easy friendly atmosphere. The Master and support teachers are always looking for ways to help students grasp the knowledge he gives.
Mu Yuchun's teachers
The Masters journey has been long and his own list of teachers is impressive.His teacher was Master He Dequan, who brought up several generations of wushu masters. When Mu Yuchun was 16 years old, he began to practice Qigong and Baguazhang under the guidance of the master Guo Gumin – the famous Chinese wushu legend.
Wu Binlou was his teacher of Chuojiaofanzi, Jian, Dao, Qiang, Gun and so on. Master Mu studied Xingyiquan from the teacher Ai Yushan – Bajiquan and Bajidaqiang from Wang Jinsheng. Mizuquan teacher Liu Peiwei was the first coach and director of Shichahai wushu school and Zhang Yiming too.
He also studied Tuishou in schools of the leading masters of Xingyiquan, Baguazhang and Taijiquan – the great Liu Jianmin, Han Jie, Xu Zhenbiao.
Since 1968 Mu Yuchun has started to practice Dachenquan in Wan Syedze school, and is familiar with other masters of Yi Quan. At that time he began to study under the guidance of teacher Xu Futong, with whom, besides the art of Dachenquan, he learned to play the bamboo flute, and studied the art of calligraphy Shufa.
Mu Yuchun in nowadays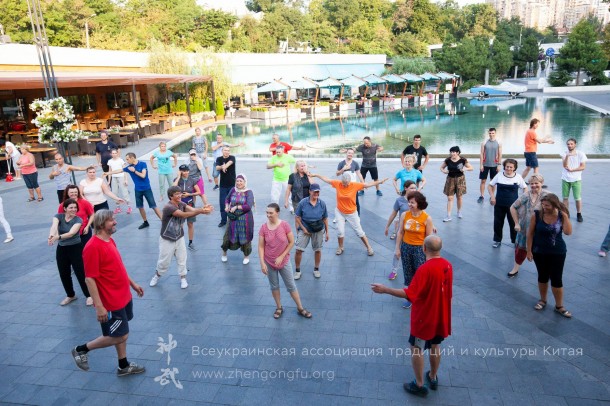 Master Mu shares with us his vast experience. Master Mu teaches not only how to practice the activities, he also explains philosophy. He teaches how to protect yourself, how to live properly and how to maintain good health. That is why so many people find his seminars so interesting and useful.
Master Mu tells a lot about methods of traditional massage, acupressure, and shows us how it's possible to heal sickness, including very difficult cases.
All the ancient knowledge that was accumulated in China is now concentrated in this one man, and he opens he generously shares his vast wealth of knowledge. The only question is how we can absorb his vast library of wisdom and put it into practice.
However the classes are not difficult, the physical activities are balanced, accurate. But there is a whole world inside each activity, which you need to discover and explore. The practical applications, the medical aspects are hidden behind the outer simplicity of movements. Master often tells us delicate things, which are insensible at a glance, but they are naturally inside of us all. He helps us to see how all natural laws and cycles in nature are the same laws and cycles inside the mind and body of all. Everything he teaches comes from nature.
Methods and origins of wushu inner family
Wushu actually originated from observing nature. Master Mu explains how the whole system works from inside. How the energy is manifested. How it's possible to find out, to see or to feel it. It's available for anyone the only question is time and Teacher's presence.
There are plenty of special pair exercises, which are necessary to practice in order to understand the sense of Chinese martial wushu. In a silent practice people are searching for the sense of these exercises, harmony and strength. The sense is usually inside, that's why Taijiquan, Baguaquan, Dachenquan and some other practices are called the inner style family.
Master controls the accurateness of completing the techniques and the verity of internal state. This video shows only one day of the seminar in Odessa with Master Mu Yuchun. But you can feel the atmosphere of seminar.
You may get in touch with us
Vladimir Fedortsov
Telegram +38 067 6541449
Facebook – https://www.facebook.com/fedortsovvla…