In August 2019, a seminar was held in Odessa with the famous Master of Traditional Chinese Medicine and Martial Arts – Mu Yuchun 穆玉春.
For many years, Master Mu Yuchun has been opening up unique knowledge about traditional medicine and working with one's own body and soul for the people of Ukraine. Practical training in martial arts, traditional Chinese massage (acupressure, stick massage, self-massage and mutual massage), deep philosophy and a completely simple amazing "earthly" approach to life.
Read the review of Natalia Bondarenko:
"My first practice.
I am new to martial arts. Although I have been involved in dynamic sports all my life: fencing, fitness, dancing, zumba … Until I got an occupational disease – a hernia in the neck: you see, I am a literary editor and a sedentary, twisted-nervous way of working is my everything. A break of three years in physical activity completed the picture – plus 10 kilos! The search for a permitted sport (yoga somehow didn't inspire at all, and I'm allergic to chlorine in the pool) led me to 43 years in wushu with a student of Master Mu Yuchun. At first it was difficult to understand why it was necessary to feel something, "pull", "listen", all sorts of yin – yang, why not just do physical education! But when the headaches began to pass, and after the classes I felt a surge of energy and joy, my critical attitude changed.
The seminar with the Master of Traditional Chinese Medicine and Martial Arts Mu Yuchun in Odessa became a new stage in the adoption of the philosophy and wisdom of his school. Firstly, I was struck by the number of listeners who strive for knowledge and gaining health! These were not only men, but also women, and of completely different ages – from young people to people of respectable age: thin, pumped up, with a "lifebuoy", prepared and complete neophytes. In addition to Odessa residents, residents of Kyiv, Kharkov, Cherkassy, ​​Kolomiya, Mukachevo, Volyn gathered here. They even flew in from abroad: from Germany, Israel, Dagestan. Each of them was looking for his own. Someone wanted to gain martial art experience by mastering taijiquan, bagua. Someone wanted to comprehend the basics of Chinese acupressure. And someone came for the atmosphere and inspiration, like me, after trying the practice of neigong.
Of course, the exercises with the stick put me in a stupor for a while, in general, to be honest, I did not expect that everything at the seminar would be so serious and deep. Out of habit, remembering exercises, one smoothly flowing into another, is difficult, and you get tired quickly. But the Master did the same thing, and he is almost 30 years older than me! This amazing person perfectly controls the body, sees right through you, benevolent, wise and with an Odessa sense of humor. An incredible energy comes from him.
He inspired me so much that all 5 days I was in a hurry to train. And this is a daily rise at half past five in the morning (for me, a creative person who is used to coming to work by 11-12, getting up at such an utterly early time is a feat), then half an hour of a very vigorous step to the Health Path, two hours of classes, of course, the beach and the sea , and again half an hour in the sun home. And after a few hours we repeat the same algorithm, only in the evening with trips to Odessa at night with all its charms and color. I remembered my student youth with a 4-hour sleep 🙂
But what the Master gave me will be enough to disassemble and master for many more months. After all, all these squats, bends, bends not only develop the body, they work out the internal meridians that start the work of the body. The ability to hear and feel helps me in working with authors. And I have already "sold out" the active points to everyone from my environment. However, as well as the way to remove the stomach, which Mu Yuchun showed me.
I am meticulous, and I would like to get to the next seminars. And also a little advice or a big request: there are a lot of people, so all the movements of the Master are not always clearly visible. It would be nice to see him from the stage, some kind of elevation, or repeat after his students, who can show complexes every 2-3 rows of seminar participants.
I am grateful to fate for the opportunity to get to such an event, to the Master for the desire and patience to share his skill, wisdom and knowledge with us, and to Odessa and the seminar organizers for the warm, friendly atmosphere, the last summer sun and the gentle sea!"
Natalia Bondarenko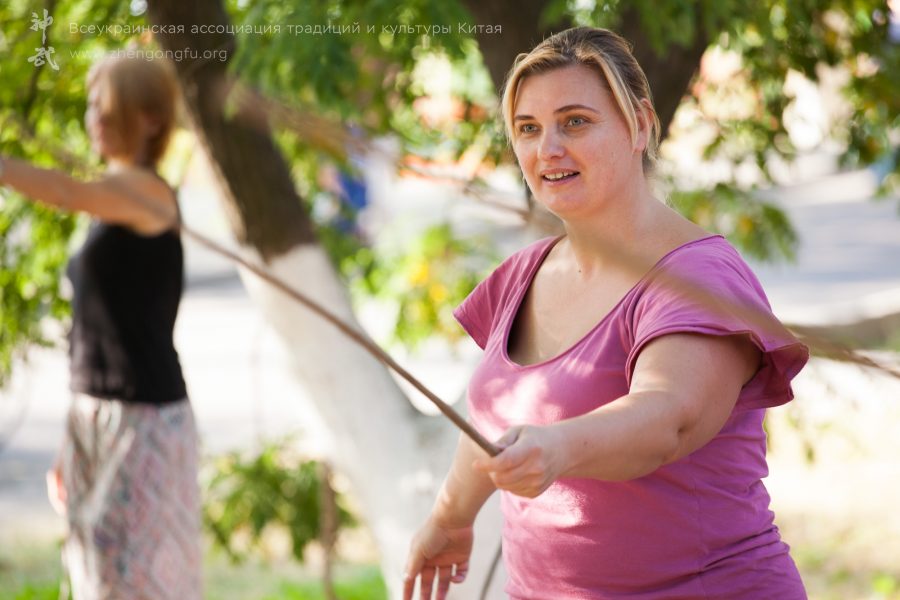 For more information about seminars with Master Mu Yuchun, call:
+38 063 22-99-44-7 (WhatsApp)
+38 094 954-02-29  (Telegram, WhatsApp)
Email: wushufederation@gmail.com
About Master Mu: https://www.zhengongfu.org/muyuchun/
Video with the Master Mu: https://www.youtube.com/playlist?list=PLkn2st9AHOP2DtZOJ-tWXx7uQ8S__n34C
YouTube channel: https://www.youtube.com/c/ZhenGongfu
See how the seminars with Mu Yuchun go. Friendly and harmonious work environment.
Subscribe to our YouTube channel, we carefully and painstakingly post all the videos with the Master Mu for you.
Here is the link to the video playlist with Mu Yuchun: